UK-US trade deal should include free movement, groups urge
UK-US trade deal should include free movement, groups urge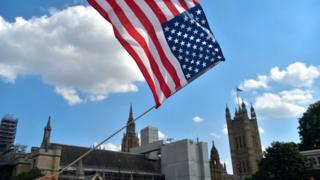 Free market enthusiasts have set out their "ideal" UK-US trade deal, including the unhindered movement of workers between the two countries.
Their report also says the NHS would benefit from being exposed to competition from the US although this would be "extremely controversial".
It also backs zero tariffs on goods and no regulatory barriers to trade.
It has been compiled by the UK-based Initiative for Free Trade (IFT) and US think tank the Cato Institute.
Striking a new trade deal with the US is one of the government's key post-Brexit goals.
But sceptics have expressed concern about opening up the UK market to imports of US products such as chlorine-washed chicken, and the NHS to American health firms.
People behind the "ideal US-UK free trade agreement" – which was edited by Conservative MEP Daniel Hannan – say it would eliminate trade barriers and "stimulate innovation" – but environmental campaigners described it as a "low-standards free-for-all".
Launching it in London, primary author Dan Ikenson from the Cato Institute said the document was "somewhat idealistic" and "pie in the sky".
"It doesn't pay a whole lot of attention to political realities," he said, adding that his approach would be to "put everything on the table except the issues that are going to be most politically difficult to overcome".
Mr Ikenson acknowledged concerns about the NHS, saying the UK government would have the option of "carving out" the health service as an exemption.
Aside from a limited number of exemptions, under the proposals all public procurement would be open to competition from the other country.
It also calls for EU-style free movement to apply between the UK and the US.
Asked about immigration concerns that drove some people to vote for Brexit in 2016, Mr Ikenson said there were similar views in the US, saying his proposed model would be conditional on a job offer and workers would be given a deadline to return if they were made redundant.
"This is not immigration run roughshod," he said.
The report also suggests that in areas such as consumer safety, workers' rights and the environment, businesses could only have to comply with one country's regulations in order to eliminate barriers to free trade.
It says this would allow firms to achieve economies of scale and cut prices.
But Amy Mount of the Greener UK coalition said: "Flooding our supermarkets with chlorinated chicken, undercutting our farmers and lowering environmental standards would be a strange way to take back control.
"The UK has benefited from trade deals that embrace high standards, and enjoyed high quality food and safer products as a result. Our blueprint for post-Brexit trade should be defined by a lighter footprint on the global environment, not a low-standards free-for-all."
The IFT was launched last year by International Trade Secretary Liam Fox and former Foreign Secretary Boris Johnson, but the report's authors said they had not been involved in drawing up the suggested trade deal, which was described as a non-partisan project.
Asked who paid for the report, Mr Ikenson said the Cato Institute had a "diversity of funding", with 80% from private donors.