Productivity perks up in second quarter
Productivity perks up in second quarter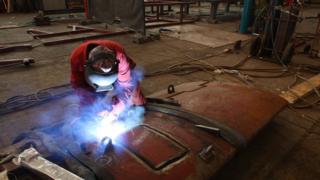 UK productivity grew in the second quarter of the year but is still behind rates achieved before the global financial crisis in 2008, official figures show.
The Office for National Statistics said output per hour was up 1.4% compared with the same period last year.
It rose by 0.5% compared to the first quarter.
But growth still remains below the pre-downturn average of 2%, "continuing the 'productivity puzzle'," the ONS said.
Productivity – which can be measured by the amount of goods or services produced per working hour – is one of the main drivers of long-term economic growth and improved living standards.
But productivity growth has barely risen over the past decade, and the UK economy is not alone – growth in Europe has also been unusually weak.
Economists have struggled to work out why the UK economy has not managed to be more productive over the last decade – hence the term productivity puzzle.
The UK services sector drove the second quarter uptick in the productivity rate, transport and professional services also contributed.
Manufacturing continued to be strong, but metals productivity deteriorated.
'Prolonged uncertainty'
Yael Selfin, chief economist at KPMG UK, said productivity would need to show further improvement for households to see a meaningful rise in purchasing power.
Howard Archer, chief economic advisor to the EY ITEM Club, said that while the rebound in productivity growth was encouraging, businesses would need to invest in themselves for productivity to improve.
"There is a risk that prolonged uncertainty and concerns over the UK's economic outlook could end up weighing down on business investment and damaging productivity.
"Extended difficult Brexit negotiations could increase this risk," Mr Archer added.