Car sales plunge as Nissan warns on Brexit
Car sales plunge as Nissan warns on Brexit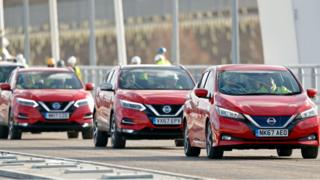 New car sales in the UK plunged in September, figures show, while the country's biggest carmaker has warned of the effects of a no-deal Brexit.
The number of total vehicles registered was down 20.5% on the same period in 2017 at 338,834, the Society of Motor Manufacturers and Traders said.
Carmakers had struggled with "a raft of upheavals" including adjusting to stricter emissions standards, it added.
Meanwhile, Nissan said a no-deal Brexit would have "serious implications".
The Japanese firm, which employs almost 7,000 people at its Sunderland plant, urged the UK and the EU to "work towards a balanced Brexit".
Turbulent times
The SMMT said it had been an "exceptional" September, following "an unusually high August and a turbulent first eight months of the year".
It said the impact of the sales plunge was felt across the board. Registrations by private consumers, fleets and businesses all fell. Sales of petrol and diesel cars were down, but those of hybrids and plug-in electric vehicles actually rose, although only by 3.9%.
Since 1 September, all cars sold in the EU have had to undergo a new test known as the Worldwide Harmonised Light Vehicle Test Procedure. This has replaced all existing tests of emissions and fuel economy and has caused carmakers to struggle to cope.
SMMT chief executive Mike Hawes said: "With the industry given barely a year to reapprove the entire European model line-up, it's no surprise that we've seen bottlenecks and a squeeze on supply.
"These are exceptional circumstances, with similar declines seen in other major European markets. The good news is that, as backlogs ease, consumers and businesses can look forward to a raft of exciting high-tech cars and a market keen to recover lost momentum."
Clarity needed
The release of the figures coincided with a warning from Nissan that a no-deal Brexit would harm its business:
The carmaker said that frictionless trade as part of the EU single market had enabled the growth that had seen its Sunderland plant become "the biggest factory in the history of the UK car industry, exporting more than half of its production to the EU".
It added: "Today we are among those companies with major investments in the UK who are still waiting for clarity on what the future trading relationship between the UK and the EU will look like.
"As a sudden change from those rules to the rules of the WTO will have serious implications for British industry, we urge UK and EU negotiators to work collaboratively towards an orderly balanced Brexit that will continue to encourage mutually beneficial trade."